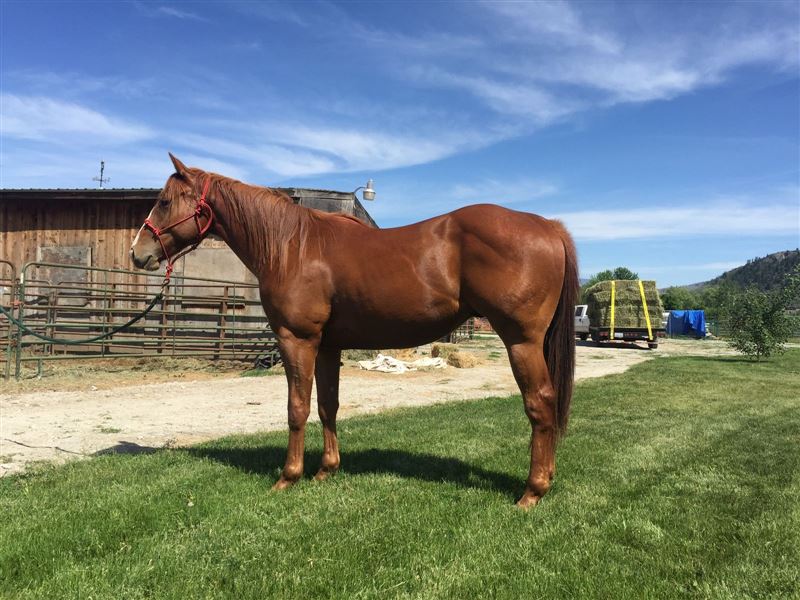 Registered Name: Look Of A Judge
Price: $12,500.00

Sire: Judge Cash
Dam: First Look Here
Height: N/A
Sex: Gelding
Age: 2
Color: Sorrel

Contact: Judy Talbot
Location: Walla Walla
Phone: 509-529-1039
Email: judytalbot01@gmail.com

LOOK OF A JUDGE, Lash, a 2016 gelding by Judge Cash. Lash is out of one of the top barrel horse sires, the late Judge Cash. His Dam, First Look Here, is a winner on the track. She has a SI 91 and she has won at three different distances. Her bloodlines include JD Look, Special Effort, MURRTHEBLURR and Jet of Honor. This gelding's half-brothers, we've raised, are running 1D times and winning money at barrel races, futurities and rodoes. He's a full brother to our mare, Blurr The Judge. 2017 was her futurity year. She won close to $4000 in a short futurity season. She ran 1D times against some of the top futurity riders and she would have qualified for the American if she had been entered. She's a very talented mare and is headed to the rodeo arena with her new owners. Lash is half-brother to Kathy Grimes hot barrel horse, Issy, whose also ran in the American; Jethro, the horse Brenda Mays qualified for the NFR on several times and the dam of Lisa Lockart's , Louie. "Lash" is powerful, fast and very agile. He's built for endurance. Great barrel prospect. ELIGIBLE for Future Fortune (Paid in full), BRN4D, PESI (Paid in), JJ Classics,Triple Crown 100, VGBRA 509-529-1039. Lash is at the trainer so his price may be adjusted. Visit our website www.talbotquarterhorses.net to view a video of him moving.